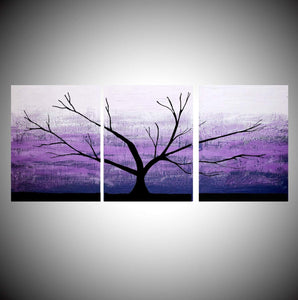 WrightSonArts
Purple Wood artwork landscape
Regular price
£99.00
£0.00
Unit price
per
Tax included.
Shipping
calculated at checkout.
The original paintings for sale "Purple Triptych" modern art abstracts -painted in shades of purple and violet, this painting has lots of thick texture. -Media: Acrylic Support: Canvas (Stretched) on Wood Frame 
If you click on each main image, it will open up a new window with a larger view to see even more detail.
Four Large sizes available

48 x 20 , 3 canvases each 16 x 20"
54 x 24 Inches 3 canvases each 18 x 24" 
60 x 28 inches 3 canvases each 20 x 28 inches 
72 x 36 inches 3 canvases each canvas 24 x 36" 

Please choose size for latest prices 

*This is a commission piece 1-2 weeks until completion*
-Media: Acrylic Support: Canvas (Stretched) on Wood Frame
- Painting Can Hang Vertical or Horizontal.
- No Framing Is Required.
-Artist: Stuart Wright
-Media: Acrylic Support: Canvas (Stretched) on Wood Frame
-hand signed on the back
- not a poster , handmade & hand painted
- art gallery represented artist - best quality paint is used for more photos please see http://www.wrightsonarts.com

★ If you like my work, please like me on facebook: https://www.facebook.com/WrightsonArt
---