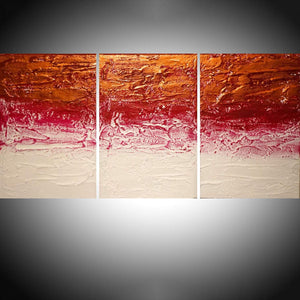 WrightSonArts
modern art for sale Tones of Home
Regular price
£199.00
£0.00
Unit price
per
Tax included.
Shipping
calculated at checkout.
oversized metal wall art "Tones of Home" modern art abstracts

- An impasto background is created using a special type of plaster , then this is painted white, twice, then it is painted in shades of purple and then finally a layer of metallic copper paint is added to create a unique metallic effect. This painting has lots of thick texture, and a unique impasto effect

size 3 of 16 x 20 " canvases . a total size of 48 x 20 "
-Media: Acrylic & plaster Support: Canvas (Stretched) on Wood Frame - Painting Can Hang Vertical or Horizontal. Other sizes available 

-Gallery Stretched Canvas.
- Painting Can Hang Vertical or Horizontal.
- Edges are painted
-No Framing Is Required.
-Artist: Stuart Wright Media: Acrylic
-Support: Canvas (Stretched) on Wood Frame -hand signed on the back

★ If you like my work, please like me on facebook: https://www.facebook.com/WrightsonArt

---